Columbus has finally seen some snow in 2022 - it's time to break out your sleds (or baking sheets, or cafeteria trays, or trash can lids…) and your winter hiking shoes. Our list below includes sledding hills, indoor activities for kids at local Nature Centers, guided hikes, and other cool things to do in Columbus during the winter (scroll down for indoor activities). Make sure to tag us @experiencecolumbus when you head out to experience winter in Columbus!
Sledding Hills
Within the Columbus and Franklin County Metro Parks system, you can find sledding hills at these parks:
Battelle Darby Creek (SW of Columbus)
Blacklick Woods (SE of Columbus)
Highbanks (N of Columbus)
Scioto Audubon (S of Columbus)
Scioto Grove (S of Columbus)
Sharon Woods (NE of Columbus)
Walnut Woods (SE of Columbus)
Other sledding hills to try out:
Delaware | Glen Oak Park boasts a man-made sledding hill that's open to all, weather-permitting.
New Albany | In the winter months, you can regularly find sledders enjoying the hill across from the New Albany Country Club on Greensward Road (near the Route 62 roundabout).
Dublin | Find the best places to sled on the City of Dublin's website here.
German Village | Schiller Park has a sledding hill that's suited for smaller children, so round up your little ones and hit the (mini) slope!

Cross-Country Skiing
If you're a cross-country skier, the Metro Parks system has trails set aside specifically for you (during ski conditions) at:
Battelle Darby Creek
Blendon Woods
Glacier Ridge
Highbanks
Prairie Oaks Ridge
At other parks, cross-country skiing may be available on all trails if ski conditions exist.
Winter Hikes
Head out on a winter hike! Many of Columbus' +20 Metro Parks offer free guided or themed hikes; whether you're looking for an evening lantern hike, an insect-hunting or animal-watching walk for your kids, or a dog-friendly group hike, check out the latest programs here.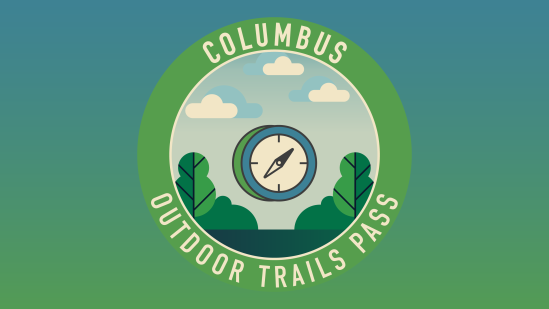 Outdoor Ice Skating Rinks
Ice skating is arguably one of the most iconic winter activities! Enjoy the following ice skating locations in Columbus this winter – just be sure to observe any "No Skating" signs that may be posted due to changes in temperature.
Dublin

Riverside Crossing Park Ice Rink | 5 to 9 p.m. Fridays, 12-9 p.m. Saturdays, and 12-6 p.m. Sundays (closed weekdays). Always check the City of Dublin's website before arriving to confirm that the rink is open. | Admission is $10 per person, including skate rental.
Coffman Park Ice Rink | 3-8:30 p.m. weekdays and 10 a.m. – 8:30 p.m. weekends. Always check the City of Dublin's website before arriving to confirm that this rink is open; the rink will only open if temperatures are below freezing for several consecutive days. Note that this outdoor rink does not provide skate rentals.

Columbus and Franklin County Metro Parks

There's nothing more magical than being surrounded by nature while ice skating on an actual pond! Conditions permitting, head over to Battelle Darby Creek Metro Park or Blendon Woods Metro Park.

Delaware

Glen Oak Park | Be sure to check this website before arriving to ensure the rink will be open.

Indoor Winter Activities (Curling, Kids' Adventure Backpacks, and More!)
If you'd rather not be outside when it's chilly, check out these fun indoor things to do in Columbus this winter:
Pick Up a Free Grange Audubon Insurance Center Discovery or Adventure Backpack | The center offers a variety of nature-themed backpacks to check out for an hour and a half at a time. Adventure Backpacks are geared toward school-aged children and Discovery Backpacks are geared toward you and your little one (preschoolers).
Head to a Metro Park's Nature Center | Just as the +20 Metro Parks in Columbus offer outside activities, many of them also have Nature Centers with scheduled indoor activities. From children's activities and crafts to evening yoga classes, peruse the latest programs here.
Play CBUS | Check out Play CBUS's many Columbus locations for a day of indoor adventure! More info here.  
Go Curling at Land-Grant Brewery | Reserve a curling lane and get a heated igloo along with it. Reservations can be made at landgrantbrewing.com.
Rent an igloo with a loved one or friends! | Check out our winter date ideas blog for igloos located around the city.
Test out hot chocolates from Columbus' amazing coffee shops and restaurants! | We've curated a list of just a few you may want to try. Read through here.
---
These are just a few of the awesome things to do outdoors in Columbus. Be sure to check out Experience Columbus' events calendar to see what's coming up each week!